Profiles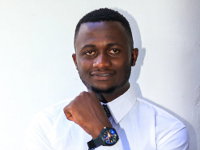 Clifone Osure
My name is Clifone Osure from Siaya County, Kenya and I am a product of FORWAC.
I joined this noble organisation as a beneficiary back in the year 2011 when I passed my KCPE examinations with flying colours but there was no hope for continuing with my education, something I at the time needed the most.
Since then, I have gone through an amazing transformation over the years and on 18th June 2021, I graduated with a second class honours upper division of 68 points in BA History and International Relations. Further I garnered a French Level Four certificate from Nairobi Aviation College.
Given the value and the skills I acquired throughout my academic journey, I have managed to harness my energy towards Youth Policy Advocacy and Charity work through social media and currently I'm on a voluntary capacity, leading a team of youth in advocating for SDG16, peace, justice and strong institutions, given the political season we're experiencing.
I'm glad to note that even though I'm still unemployed, I can confidently say thank you to the FORWAC fraternity for believing in me, and giving me an opportunity to get the best out of myself, through facilitating my education.