Profiles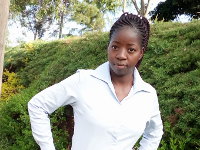 Sarah Weda
I'm Sarah Akinyi Weda.
I joined FORWAC in 2014 when I joined form two and was unable to raise school fees for the rest of my secondary education. FORWAC gave me an opportunity to continue with my studies until I sat for my KCSE in the year 2016.
I passed and got a direct entry to Garissa university. I joined the university in 2017 and FORWAC still supported me and is supporting me even now that I am about to finish my university education.
I'm in my fourth year and hope to finish early next year.
I really appreciate FORWAC for how far I have come, you've made me who I am today through God's grace.
God bless you.