Profiles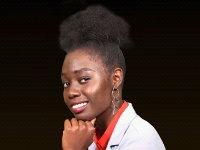 Winnie Owiti
My name is Winnie Anyango Owiti.
Just like every kid, I had a dream, a particularly big dream, of flying an airplane one day when I grew up. But at some point in my kid life, after my primary school, that dream felt like it was shattered but after struggle and sacrifice, my parents managed to get me to form one (secondary school) but there was no hope for me to continue and complete my secondary education.
Well, there are still good people in this world and I met this amazing, God sent guardian angel, our mother, Mrs. Margaret Okello. This is when I joined FORWAC, in 2013, the year my dream came back alive again. I vowed to make her proud and made sure I never took for granted this opportunity numerous children needed.
I completed high school in 2015, passed, then joined Chuka University in 2016 to pursue a bachelor's degree in Ecotourism. I completed the course in 2020 and graduated with second class honours (upper division).
After my graduation, I volunteered with a local organisation in the fight to stop early/teenage pregnancy that was especially rampant during the Covid-19 pandemic period. I instantly built more interest in fighting for women's and girl's rights while also advocating for the policies that protect them.
Currently my friends and I are starting an organisation, a safe house for women and girls who have been violated or have undergone Sexual and Gender Based Violence in Kisumu County while also intending to spread our wings beyond the county. This organisation will be called Girls and Mothers Rescue Services (GIMORES).